THE LEADER IN LIGHT TRANSFORMATION
For over 25 years, Silhouette® Window Shadings have been the leader in light diffusion with specially crafted fabrics that transform harsh sunlight into beautiful ambient light.
With no cords or tapes, the sheer facings allow you to view through the vanes to the outside, while maintaining a discreet level of privacy.
The brilliantly engineered shadings feature soft, adjustable S-shaped vanes that appear to be floating between two sheer fabrics. Simply tilt the vanes to achieve your desired level of light and privacy.
Silhouette shadings diffuse strong incoming light and create a soft glow in your home. The white rear sheer obscures the view into your home, providing daytime privacy.
Just as sunscreen protects your skin from the sun's damaging ultraviolet (UV) rays, Silhouette shadings help protect your room's interiors and add to the lifespan of your valuable possessions, filtering out up to 88% of the sun's harmful rays .
(effects and the light of the selected fabric is slightly different.)

SUPERBLY STYLISH




Superbly stylish Silhouette® Shades take the harshest sunlight and smoothly transform it into softly diffused light - creating beautiful, calm light effects.

EXTRAORDINARY LIGHT CONTROL

The construction of soft, rotating Silhouette® fabric vanes gives you the freedom to create a variety of moods. Simply tilt the fabric vanes to let in more or less light and enjoy the daylight whilst filtering out brightness, glare and UV rays.

(effects and the light of the selected fabric is slightly different.)

PROTECTIVE SUN SCREENING

By choosing our special Silhouette® you can instantly reduce the heat entering your room by up to 25%. In fact, with the vanes closed, you'll enjoy up to 99% UV protection, helping prevent fading of your furniture.

(effects and the light of the selected fabric is slightly different.)
Features & Benefits
Silhouette® Window Shadings with Anti-Moiré

The weave on the sheer front fabric facing is different than the weave on the rear facing,

thus eliminating any wavy motion a person would otherwise see when looking through the shading.

Other brand's window shading without anti-moiré

When both the overlays use the same or very similar material,

a moiré pattern is created due to light interference effects.
Operation System
Hunter Douglas offer a wide array of innovative lifting system options for enhanced child and pet safety as well as especially easy operation.
EasyRise™
The EasyRise™ lifting system with continuomakingus cord loop disperses the weight evenly across the shading,
even the largest shading easy to raise.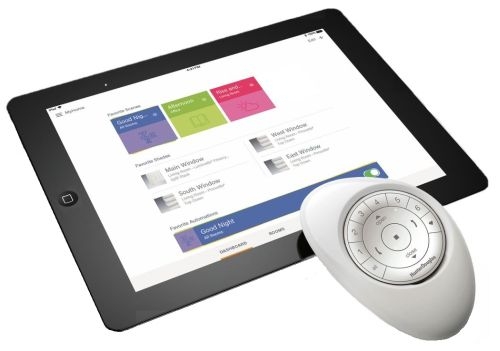 POWERVIEW®
Our brilliant wireless operating system gives you the power to control and schedule your Hunter Douglas window
treatments via remote control or your mobile device, and creates a safer environment for homes with young children and pets.